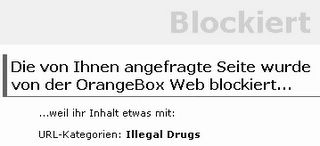 Hannes informs me that browsing from Germany this site gets blocked... my German isn't too good (neither is
Google's
), but I think I get the gist of it from the last two words. A friend of his in China gets a similar message. Apparently I am unable to corrupt the youth of the world because they've all got candyass web content blockers.
The funny thing is almost every time I talk about drugs I'm talking about the various prescriptions I take in my duties as Test Monkey #2305. OK, so maybe I take a little pride in being the only Google hit for the phrase
free dope and fucking in the street
, but it's not like I regularly post sordid details about drug-fueled Hunter-Thompsonian nightmares and Caligulesque orgies.
But I guess it's never too late to start. ;)